South Africa Expat Guide
With our South Africa expat guide you will discover all the tips and secrets to make your relocation to South Africa a successful one. The Living in South Africa guide book provides all the information you will ever need! 

Living in South Africa
Moving - Working - Enjoying Life
Through our social network of literally thousands of expats and future expats over the last eight years, we've identified the main worries of expatriates and business travellers when being transferred to South Africa by their internationally operating organisations, when planning on a move to this country, where with their South African partners and spouses, children or on your own. Or when planning to retire or start a new life in this amazing part of the African continent.

We've boiled this research down to 296 pages filled with vital information, practical tips and recommended resources for further consideration to help you take off the heavy weight from your shoulders when being at the difficult stages of decision making and planning that are essential in any successful relocation.
Our book will help to get well prepared and be informed about all topics affecting your daily life in South Africa and thus will make your settling-in period so much more enjoyable too.
Plus, we've made it easy for you! With our colour coded chapters and a detailed index, you will find it convenient to use the book as a reference at any stage of your relocation, this means you don't have to sit down and read Living in South Africa cover to cover. There are so many things to consider when moving and living abroad, we will help you to go through the many little necessary steps which are essential for your specific situation.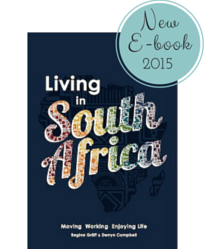 View sample pages
Join the

Living in South Africa community

on Facebook
What you will find in our 'Living in South Africa' guide book
Our comprehensive expat guide book will guide and assist you through the process of settling in to ensure you get the most from your experience. The book provides relevant background information about South Africa's history, economy and cultural heritage as well as a comprehensive overview of more practical topics related to daily living.
The book covers the following topics in seven comprehensive chapters:





The book is packed with 292 colourful pages of information and useful tips and gives a comprehensive overview of this unique country. Many colourful graphics and photographs complement the information which includes personal experience and helpful hints.
Make the most of your experience!
How to order your South Africa Expat Guide?
Buy or E-book for immediate download
Simple and easy! Purchase our ebook via Paypal and be able to download your pdf version of the book from our e-junkie link. So you start reading right away! Or contact us to get a link to download an epub file which can be used on ibooks as well.
Payment Information
The ebook costs €14.59 when paying via PayPal.
Your book is fabulous. I can just imagine how much work went into setting this up. It will be of great benefit to any inbound expat to the country.'
~ Alta McMaster, Global Mobility Manager, PwC

South Africa Expat Guide Book's Data sheet:
Living in South Africa: Moving - Working - Enjoying Life by Regina Gräff and Derryn Campbell
Dimensions: 152 x 222 mm, 296 full colour pages, soft cover, with cover gatefolds, published in April 2014
ISBN: 978-0-620-57656-7 and ebook: ISBN: 978-0-620-58075-5
About

Regina Gräff is the founder and editor of the free info sites ExpatCapeTown.com and Kids-World-Travel-Guide.com and co-author of the 'Living in South Africa' handbook. Born and raised in Germany, she has a MA phil degree in languages and intercultural communication. Regina is a serial expat and has worked as a teacher and educational consultant in various countries including the USA, Australia, Singapore and the UK. Since 2005, she lives with her family in Cape Town/South Africa. 
Related Pages
Image credits on this page South Africa Expat Guide: shutterstock.com and own images
Return from South Africa Expat Guide to Educonsa Homepage
Nov 02, 16 08:43 AM

Our favourite diversity quotes shall inspire and celebrate mutual understanding and diversity

Oct 12, 16 09:42 AM

What is blended learning? Read about the benefits and challenges of blended learning and e-learning

Jun 03, 16 10:30 AM

Gifted children have special needs and pose many challenges to parents and teachers. What is giftedness and how to deal best with this diagnosis?