Welcome - Sawubona - Bienvenue - Willkommen - Welkom


As an adventure-loving expat family travelling the world for longer than our teenagers can walk, we hope to share knowledge and inspiration with you! We love exploring our wonderful world and do not get tired of trying new things, travelling to new places and going new routes, as we learn so much about ourselves, others and life in general.
Now sit back and enjoy the journey with us!
Having lived and worked in a multitude of countries around the globe in teaching and technical support positions, we have helped establish and grow various representations on five continents. 
We always knew that raising children in a foreign land would not be easy, however we were not prepared to all the parental challenges when giving up on the usual family support network and living abroad raising third culture kids. However, not for one minute we regret giving our children the world instead.

Living far away from family and friends taught us to look for new solutions, to adapt to different cultures and lifestyles and learn new skills. We often could not rely on parenting tips we were given by locals as their situations we completely different to our experiences,  or by our network back in our own home country, as these well meaning contacts also rarely shared our views and rarely could relate to our different lifestyle. Thus we had to look for new ways of doing things and learned a lot from our own experience. Raising third culture children can challenge the strongest partnership and we were forced to start 'thinking out of the box' when deciding about the education we wanted to give to our kids. During our years abroad, we encountered various soul-searching and mind-boggling experiences, but with time we realised we are not alone. 
Through the desire to not only sharing our own challenges, but to help finding solutions for fellow travelling parents, teachers and other interested parties, this site was created. Here we want to share knowledge and expertise on educational themes, travel related advice and create a network of like-minded people on issues concerning global education objectives.
We feel strongly that education is the most important tool to stop conflicts and make this world a better place. It's up to all who live on this beautiful planet Earth to make it a safe, peaceful and welcoming home for all who live in it. So join us on our journey, bookmark our site and enjoy updates and receive current information and received new posts from us. We love to travel and share our insights so watch out for our regular resort review, city insights and travel tips for families. Let's explore this world in a responsible manner and make a difference!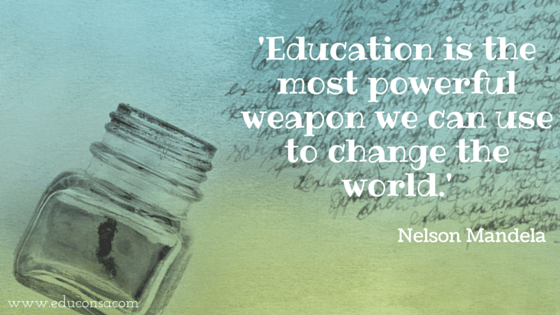 Education is one of the most treasured goods we can impart on others, especially on the young generation. With competent analysis and research we want to share insights and knowledge and offer valuable networking solutions and useful applications such as our 'Kids World Travel Guide' and 'Living in South Africa' our expat guidebook to an amazing country. Our name 'Educonsa' was chosen as an acronym to show the values we support through our actions:
Education - Competence - Networking - Solutions - Application
Educonsa Mission Statement
According to our mission statement we aim to:
To educate and support learners to achieve their most ambitious goals
To motivate learners and teachers to reach competent communication objectives
To provide resources and build a network for leaners and teachers for motivational purposes
To stimulate response and provide creative solutions to educational needs
To deliver highest levels of professionalism and competent applications
To improve teaching standards and provide useful tools for teachers and parents
To support teachers in developing helpful resources and provide inspiration for classroom activities
Subcribe to our newsletter and receive information about updates on our blog. 
or drop us a line. We look forward to hearing your comments and reading your insights!
Nov 02, 16 08:43 AM

Our favourite diversity quotes shall inspire and celebrate mutual understanding and diversity

Oct 12, 16 09:42 AM

What is blended learning? Read about the benefits and challenges of blended learning and e-learning

Jun 03, 16 10:30 AM

Gifted children have special needs and pose many challenges to parents and teachers. What is giftedness and how to deal best with this diagnosis?