Mauritius Resort Review
Are you looking for a Mauritius resort review that is detailed, honest and unbiased and that is not sponsored? Are you planning a tropical holiday with your teenagers in a luxury resort? Then read on. We have the perfect place for your dream holiday on a tropical Indian Ocean island!

Here review our recent stay at one of the most popular resorts on Mauritius. We stayed for eight nights in April at the splendid Trou Aux Biches resort on Mauritius. As we wanted to celebrate our 20th wedding anniversary in style together with our teenage kids, we were looking for a special and luxurious hotel on a tropical island where we were treated well and the whole family could relax. With kids in tow, as you will agree, holidays are different to what my better half and I would enjoy on a couple-holiday. Thus finding the perfect place for four family members with each having very different ideas about spending a dream holiday, -  two very energetic teenagers and an adventurous husband who loves culinary treats and a mum who loves to relax and just wants to be spoilt - I was charged with a challenging task. 

After a lot of web research and soul searching, we decided to splurge out on a Mauritius resort holiday and we are so glad we choose to stay at the Trou Aux Biches Resort and Spa. Now we dream of going back for another holiday to this magic place as soon as possible again!
Enjoy reading our Mauritius resort review which shall provide comprehensive information especially for family travellers.


Did you know?
---
More than 100,000 unique visitors read our updates and travel news every month!

Simply subscribe to our mailing list and enjoy  reading our tips, stories and insights.
Your email is safe with us!
Mauritius Resort Review:
Luxury 5 Star Trou Aux Biches Resort & Spa
The magnificent pool at the Trou Aux Biches
From the minute we stepped into this amazing Indian Ocean resort, we were treated like royals by all members of the staff without exception. The manageress welcomed us upon arrival while we were waiting for the lady at reception to finalise all the initial registration and booking details. Fatima made us always feel special as she was constantly around and checking the impeccable service provided by staff and we always saw her initiating conversations with the hotel guests. Every evening, she came by the table in the various restaurants and she even remembered our names - maybe she checked the bookings before coming into the restaurants? - but still this was such a wonderful treat and way of connecting which made us feel welcome and special as guests at the Trou Aux Biches. This was really refreshing especially as this is unfortunatly, not common procedure, even at other luxury resorts we had stayed at before.
Mauritius Resort Review
Trou Aux Biches - Location and Facilities
The 5-star Trou Aux Biches resort, part of the Beachcomber chain of luxury hotels, is with over 300 rooms the biggest resort on Mauritius. It is also said to be the 'first resort on Mauritius'. It received a major revamp in 2011 and has a modern but still traditional look and feel which we really appreciated. The hotel is located along a 2km beach which is renowned for its clean, white sandy beach and its calm waters. 

Located in north-western Mauritius, close to Grand Baie, the hotel complex is located along the tranquil coastal road in the north-western parts of the island. This part of Mauritius is renowned for its milder climate and are generally less windy, warmer and more sunny than other parts of the island. We had read that many visitors recommended beach shoes but found this not necessary as walking into the water and on the sand, which was full of small pieces of broken corals, was still easily manageable with bare feet.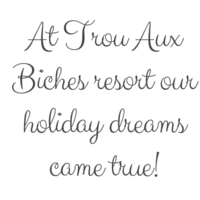 The resort boasts six restaurants, one main pool and several smaller pools on the vast grounds, as the chalet-style accommodation is build around these smaller pools. There are six floodlit tennis courts, a fitness centre, a Clarins spa - sauna facilities only to be used by visitors to the spa - and a small resort shop, which stocks some beachside fashion, souvenirs and children toys as well as a small section of books, maps and postcards. Some brands of cosmetic products and grocery items are available.
Trou Aux Biches has a kids club for children aged 3 - 12 years. There is also a clubhouse for teenagers where there are some computer screens, TV screen, pool billiard table and table tennis. Our kids joined-in the late afternoon beach volleyball games, enjoyed doing the runs along the beach and taking part at the tennis tournament.
Watersport facilities are plentiful. At the boathouse, guests can rent - without additional fee! - windsurfing boards, standup-paddle boards, hobie cat, pedal boats and kayaks. They also offer waterski lessons at the hotel's own pier which have to be paid for after some initial free lessons. To be booked in advance, there are several glass bottom boat trips daily to the reef as well as snorkeling trips - snorkel gear is also provided for free by the hotel.

The newly revamped and spotless clean Sport Centre (for machine and wight training) is open daily from 7h30 to 20h00. Some classes such as yoga or spinning sessions are scheduled daily, but private classes are available on request and for an additional fee. Tennis rackets and mountain bikes can be rented as well.
Mauritius Resort Review
Accommodation 
The resort boasts 306 suites of different room categories and 27 villas. There are Junior and Tropical Junior Suites as well as Family Suites with two bedrooms. The beachfront suites with their own small round private swimming pool have an amazing location right by the beach (great for watching the sunsets). There are also several villas in a more remote part of the hotel grounds. They all have their own private swimming pools and comprise two or three bedrooms.

For our family of four, including two teenagers, we choose the Junior Suites, but were upgraded to Junior Tropical Suites with outdoor showers. The bedrooms were spacious, with a huge bathroom and dressing area, comfortable beds with high quality bed linen, a safe, a desk, a phone and flatscreen TV as well as a separate sitting area. Each room has a verandah or a patio furnished with sun lounger, small table and chairs. Housekeeping kept the rooms clean and aired and the mini-bar freshly stocked as well as complimentary coffee and tea facilities replenished. There was a bedtime turndown service when they always checked the bathrooms again and exchanged beach and bath towels again, when needed. Housekeeping was very efficient and discreet, mostly coming into the rooms while we were out for breakfast or dinner.

Price for the rooms: From 129 Euro/night for a Junior Suite
Mauritius Resort Review 
Food at Trou Aux Biches
The hotel claims to be the most authentic of the Mauritius resorts. With six restaurants catering for the guests at Trou Aux Biches, it certainly offers the most varied choice of culinary treats. There are bed and breakfast as well as half-board options and an all-inclusive food option could be opted in as well.

These are the resort's restaurant options:
L'Oasis, the resort's main restaurant, offers themed buffets in the evening such as Seafood evenings, Mediterranean style specialties or Mauritian Evenings and has a very scenic setting at night.
'Caravelle, 'a-la-carte' restaurant with gorgeous views of the ocean. They also arrange 'dinners on the beach', yes, in the sandy beach area, for special celebrations.
Mahiya, the Indian restaurant, is the smallest restaurant of the resort with only 40 seats. It not only offers authentic Indian dishes but live sitar music. With lovely table setting and amazing service.
Il Corallo, Italian restaurant, where we enjoyed an excellent antipasti buffet
Le Deck, is the resort's seafood specialty restaurant which is situated on a wooden deck by the poolside and at the waters edge
Blue Ginger, the Thai restaurant with authentic Thai food and outstanding service. This was our favourite restaurant. As you may know, we lived and travelled widely in Asia, but the dishes - and the service - were outstanding.
Breakfasts is buffet-style with cold and hot dishes and can be taken either at 'L'Oasis' or at the smaller 'Caravelle' on the southern end of the resort. Dinners for all specialty restaurants have to be booked at the hotel's booking desk at least one day in advance, only the buffet restaurant does not need reservations and there were always tables available. The bar serves creative cocktails and a decent ti rhum, the Mauritian specialty. Evening entertainment at L'Oasis and La Caravellewith live music and vibrant fire and dance performances. The resort is a open to outdoor guests for dinners, but requires booking in advance. 
For half-board option, dinner was possible at all restaurant, some dished would have required extra payment, however, we found the choice sufficient to not paying additional money, except for all drinks. Beverages are not included in half-board option. 
Mauritius Resort Review: What else to know?
Who will love this Mauritius resort? The Trou Aux Biches is highly recommended to:
Families with kids of all ages, due to the many activities offered and the active children's clubs
Couples, especially for celebrations. There are discounts for honeymooners and anniversary celebrations (5, 10, 15, 20 etc years) and they are really great at spoiling their guests
Pensioners due to the location, near enough to go sightseeing in Grand Baie by Bus or Taxi. There were several people over 65 during the our stay and they all seemed to be repeat guests. Repeat guest qualify for discounts as well.
Business travellers and events coordinators, as the conference room is available for events, meetings, and conferences catering for up to 150 people.
The resort offer various discounts as mentioned below. Some of these offers might be combined and added up to receive higher discounts for:
Early Bookings - max 30 days before holiday - or Late Bookings
Long Stays for stays longer than 12 nights
Honeymoons for bookings up to one year after wedding date. A certified copy of your marriage certificate must be presented.
Wedding Anniversary - if 6 month prior or 6 month after the anniversary date, applicable for 5 year intervals only. You need to present a certified copy of your marriage certificate.
Dress code: As in all Mauritian hotels and resorts, the evening dress code is smart-casual to elegant, meaning long trousers and shirts for men. This rule was not strictly enforced by the main restaurant of the hotel, but in general, the guests were well dressed and styled in the evenings, especially for meals at the smaller and elegant specialty restaurants.
Mauritius Resort Review
Security and Safety at the Trou Aux Biches
Safety is very good at this resort. No outdoors visitors are allowed onto the grounds if not previously booked in or allowed on previously arranged special requests. There are security guards patrolling the resort grounds and the beach at night. There are occasionally wild dogs roaming the beach during the day and the grounds at night, but staff and security personnel usually control the area and chase them away. There are sellers of boat trips, handicraft and exotic fruits walking up and down on the beach in search for customers. We found them all very friendly and open for chats even though we did not support them by buying tours or 'precious stones'. We never felt pushed or menaced.
For booking or further information, enquire directly at the hotel: www.beachcomber-hotels.com
And please tell them you heard from our Mauritius Resort Review.
*****
Have you stayed at this hotel? Would you like to share your thoughts and insights? Add your Mauritius resort review below or contact us.
About

Regina Gräff is the founder and editor of the free info sites ExpatCapeTown.com and Kids-World-Travel-Guide.com and co-author of the 'Living in South Africa' handbook. Born and raised in Germany, she has a MA phil degree in languages and intercultural communication. Regina is a serial expat and has worked as a teacher and educational consultant in various countries including the USA, Australia, Singapore and the UK. Since 2005, she lives with her family in Cape Town/South Africa. 
Image Credits on Mauritius Resort Review: Own photographs 
Disclaimer/Mauritius Resort Review: We were not sponsored guests of the hotel or any tourism or travel body. This is a personal opinion reviewing our own experiences and using information presented to us by the hotel during our stay we can verify. We do not accept responsibility for any consequence, loss, damage or inconvenience caused by our review. Hotel details might have been changed since our stay and the information provided on this blog is purely for personal reference.
For more information about Mauritius refer to our Mauritius Facts on K-W-T-G